Illinois state Rep. Karina Villa (D-West Chicago)
A former close associate of longtime House Speaker Mike Madigan now under criminal investigation recently contributed at least $200 to the campaign war chest of Illinois state Rep. Karina Villa (D-West Chicago).
According to the Illinois State Board of Elections, Mike McClain made his contribution in late January, soon after Villa had knocked off Republican Tonia Khouri in the 49th District with nearly 54 percent of the vote. In the final days of the race, Villa's campaign also received a big boost in the form of a $900,044 contribution from Madigan, the longest-serving legislative leader in U.S. history.
Right at his side for a good part of the run has been McClain, a former state lawmaker and longtime Springfield lobbyist.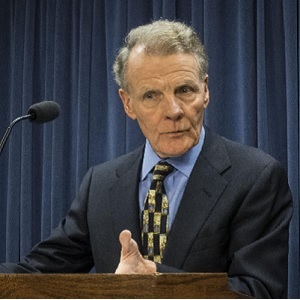 Illinois House Speaker Mike Madigan (D-Chicago)
Illinois Policy Institute reports the raid on McClain's home was coordinated to coincide with raids at the residences of former Chicago Ald. Mike Zalewski and Kevin Quinn, both of whom are also close associates of Madigan.
In order to obtain a search warrant, authorities were required to convince a judge of probable cause of a crime, and that evidence of a crime existed in each home, the Chicago Tribune reports.