Kinzler sees tax cuts, end to corruption as way to end out-migration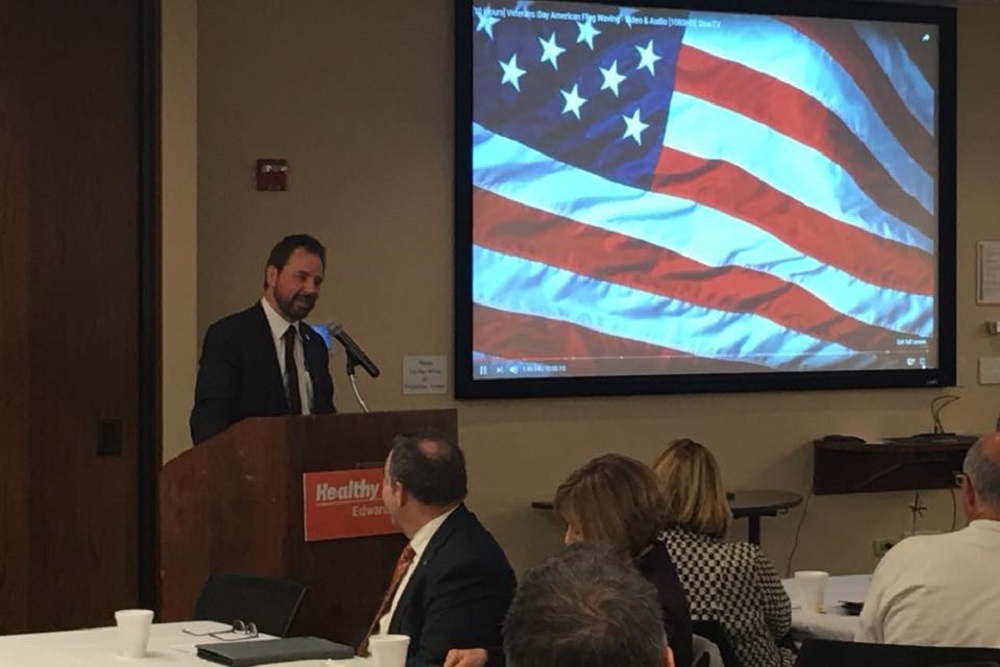 Jay Kinzler, the Glen Ellyn Republican who is running for the seat held by Rep. Deb Conroy (D-Villa Park) in the 46th District, says his plans to tackle the issue of Illinois' dwindling population is to cut taxes and government corruption.
Kinzler told the DuPage Policy Journal of his plans following U.S. Census information that shows the state lost one person every 4.6 minutes last year.
He said his opponents were looking to raise taxes, which is something he is against.
"What this does is it drives businesses out because they are paying a higher corporate tax, and workers and professionals saying 'I can do the same work or run the same business in a different state and not pay as much tax,'" he said.
"The idea is to lower the taxes, get more businesses to stay and even attract more new businesses," Kinzler said. "Then you are going to have a flourishing economy and actually, the tax revenues in total could go up because now you have more people working and you have more businesses prospering."
Kinzler's passion comes from years of watching his home state suffer. He said when he was a teenager, Illinois had it all. "We had all the resources with great farmland, great manufacturing, great schools, great houses, most of all great people. We were very prosperous," he said.
"With poor leadership, particularly under (House Speaker) Mike Madigan's Democrats and these career politicians, Illinois started to deteriorate little by little," Kinzler said.
He said it began with an increase in taxes and with corruption.
"The average person in Illinois pays about 3 percent of their home value in property tax," he said, adding the national average was 1 percent. "What is happening is a lot of people are starting to look around at our surrounding states and realizing they can prosper better in places like Indiana, Wisconsin, Missouri because tax is so much lower."
Kinzler also questioned how the government was spending the money coming in from taxpayers.
"What is worse is that with that amount of tax revenue coming from residents there is still always running deficits, they are still always trying to pass referendums and there is still all these trying to raise the taxes in addition," he said.
His answer was to put more money back in the hands of the people. "Let people have more of their own money. When they work they should better enjoy the fruits of that work. I think that is going to be what makes Illinois a little more welcoming for people to want to stay or to move back to," he said.
District 46 includes all or part of Glendale Heights, Carol Stream, Addison and Villa Park.
Want to get notified whenever we write about
Jay Kinzler for State Representative
?
Next time we write about Jay Kinzler for State Representative, we'll email you a link to the story. You may edit your settings or unsubscribe at any time.
Sign-up for Alerts
Organizations in this Story
Jay Kinzler for State Representative
More News