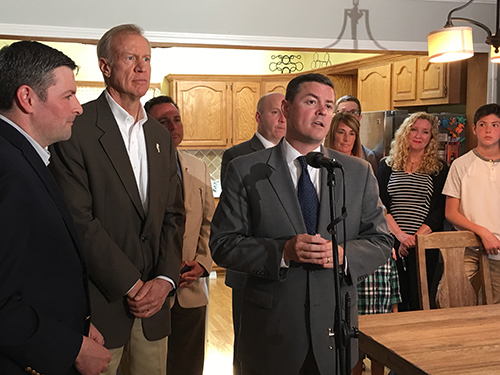 Gov. Bruce Rauner signs "Charlie's Law," requiring health coverage for children with PANDAS.
Illinois children suffering from autoimmune disorders associated with strep throat infections are now guaranteed health coverage, thanks to the enactment of "Charlie's Law."
Gov. Bruce Rauner signed measure on July 18, making Illinois the first state to require insurance companies to cover life-saving treatment for PANDAS, or pediatric autoimmune neuropsychiatric disorders associated with streptococcal infections.
Cosponsored by Sen. Chris Nybo (R-Elmhurst), the law is a result of a near-deadly incident in Lombard in which 8-year-old Charlie Drury's strep throat infection became a severe mental disorder.
PANDAS can be cured by a specialized vaccine or medically advised treatments, but treatment can exceed $10,000 without health coverage.
The legislation also requires coverage for another pediatric autoimmune disorder known as pediatric acute-onset neuropsychiatric syndrome (PANS).
"Anything that we can do in this state to get medical treatment for kids who need it, I will always be on board," Nybo said in a recent press release. "I'm delighted to see this bill signed, especially after having gotten unanimous support in the State Legislature."
Rauner signed the bill in the Drury family home.
Nine-year-old Griffin Brejcha, who also suffers from PANDAS, was also in attendance. He is expected to begin insured treatment this week.