Dems keep reaching into taxpayer pockets rather than reaching for reforms, Ives says
Senate Democrats think it's easy to reach into taxpayer pockets and pull out $5.4 billion, Rep. Jeanne Ives (R-Wheaton) said on a Chicago-based radio show following Tuesday's vote on Senate Bill 9.
"They have so many ways that they want to spend your money, and people can't even keep track of it, and that's the problem here," Ives told Dan Proft and Amy Jabobson of "Chicago's Morning Answer."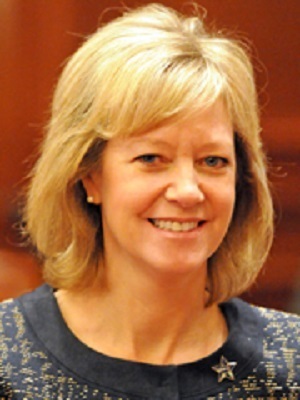 Illinois State Rep. Jeanne Ives (R-Wheaton)
Proft is a principal of Local Government Information Services, which owns this publication.
No Republicans voted for SB9, which is expected to cost every household in Illinois an additional $1,125 in taxes every year, according to the Illinois Policy Institute.
The bill increases the personal tax rate to 4.95 percent from 3.75 percent and the corporate tax rate to 7 percent from 5.25 percent.
"They just think that certain people can afford more money, and that's the only way out of this mess," Ives said. "I completely disagree."
Illinois owes almost $14 billion in bills and $130 billion in unfunded pensions, leaving Ives to ask where the additional tax revenue will go.
"You can't solve any of this stuff on a tax increase without first demanding the reforms because it's only going to go to broken pension systems, broken grant systems and broken Medicaid systems that have no accountability," Ives said. "Until you do that, you can't ensure that any dollar spent is going to the right place."
SB9 relies on taxing services many household use to generate money. An increase in sales tax on storage, laundry, dry cleaning and other services will bring in $55 million, and taxing cable and satellite TV will net another $54 million, the institute said.
Ives decided to become a sponsor on SB9 not to support it but to have some control.
"I want to bury it or change it dramatically," Ives said.
Gov. Bruce Rauner has said he will veto any tax increase if there is no property tax freeze on the table, Ives said she and her colleagues hope he does.
"The Republicans are definitely together on no tax increases, especially without reform," she said. "If we don't reform, Illinois dies."
Want to get notified whenever we write about any of these organizations ?
Next time we write about any of these organizations, we'll email you a link to the story. You may edit your settings or unsubscribe at any time.
Sign-up for Alerts
Organizations in this Story
Illinois Policy Institute • Illinois Representative Jeanne Ives (R-42nd)
More News