Fifth Amendment won't save Mautino, Wehrli argues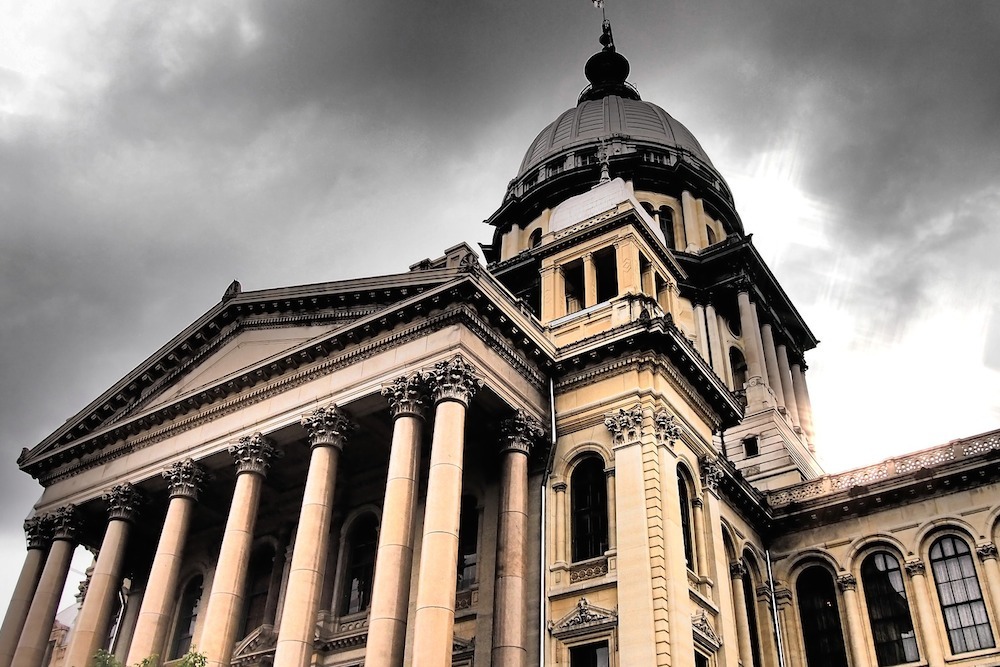 Invoking the Fifth Amendment won't protect Auditor General Frank Mautino from House Joint Resolution 9, Rep. Grant Wehrli (R-Naperville) said after the State Board of Election's hearing on Mautino recently.
"Today we heard that his Fifth Amendment rights were invoked in response to a State Board of Elections subpoena," Wehrli told the Edgar County Watchdogs (ECW), a government oversight group. "That should tell us everything we need to know about the ethics of Mr. Frank Mautino."
Wehrli said a bill to force Mautino's ouster is currently in the General Assembly.
"I think it's time for Frank Mautino to resign," he said. "House Joint Resolution 9 was filed back in January; it calls for his resignation. It would give him the opportunity to come forward and answer these questions – questions that he has had multiple, multiple opportunities to answer, and he simply decides not to."
The scandal surrounding Mautino's campaign contribution spending began in January 2016 after the Illinois Times reported that Mautino had continued to collect campaign donations between his appointment to the auditor general post in October 2015 and assuming the position on Jan. 1, 2016.
The ECW, intrigued by the story and the campaign's explanation that the donations were used to pay for office expenses and close up shop, conducted an investigation of Mautino's campaign spending, reviewing data in his Campaign Disclosure Expenditure List. The group found that the campaign had paid more than $213,000 to one service station for fuel and repairs between March 2005 and December 2015.
The campaign also wrote checks totaling a similar amount to Spring Valley City Bank, which the campaign said was a method to get cash for campaign-related payments, but no receipts for those payments have been provided.
Illinois resident David Cooke submitted a complaint to the State Board of Elections that led to that body's investigation and the recent hearing. Mautino's campaign contribution spending is also now the subject of a federal investigation.
Despite mounting evidence of suspicious spending, Mautino has not answered questions to ease the concerns of some lawmakers and Illinoisans, culminating in his invoking Fifth Amendment protections at the State Board of Elections hearing. While Mautino has refused to offer explanations, his supporters, including Speaker of the House Michael Madigan (D-Chicago), have maintained that a full review of the case will prove his innocence.
"One of the things that Speaker Madigan said was that Frank Mautino would be vindicated once all evidence was out there, and now here today we heard that Frank Mautino invoked his Fifth Amendment [rights] in response to a subpoena," Wehrli said. "So, I don't know how we're ever going to get to the bottom of this if Frank won't even testify on his own behalf."
The ECW pointed out in its interview with Wehrli, who was accompanied by fellow Mautino critic Rep. Jeanne Ives (R-Wheaton), that the documents presented in the hearing have been sealed, even though the hearing itself was open.
"It once again just makes me question the transparency of all of this," Wehrli said. "These records should be public. This was a public hearing in which documents were provided. Those records should absolutely be a matter of public record. Now, as of today […] I'm not a lawyer, but they should be."
Wehrli has also pushed for greater transparency in campaign spending through House Bill 0415, which would require copies or images of receipts to be submitted along with expenditure reports. At the hearing, Wehrli and Ives were the only two of the state's 118 representatives to have their campaign reporting brought to the table.
"You know you're over the target when you're taking flak," Wehrli said. "That was a shot right at us […], but it's simply a low form of intimidation, and it won't stick. If we can get the speaker to get HB 415 out of Rules and get that as law, then all of this goes away because everything will be out there for all to see."
Want to get notified whenever we write about
Illinois Representative Grant Wehrli (R-41st)
?
Next time we write about Illinois Representative Grant Wehrli (R-41st), we'll email you a link to the story. You may edit your settings or unsubscribe at any time.
Sign-up for Alerts
Organizations in this Story
55 South Main Street
Naperville, IL - 60540
More News