How Rauner's wish list has fared in the General Assembly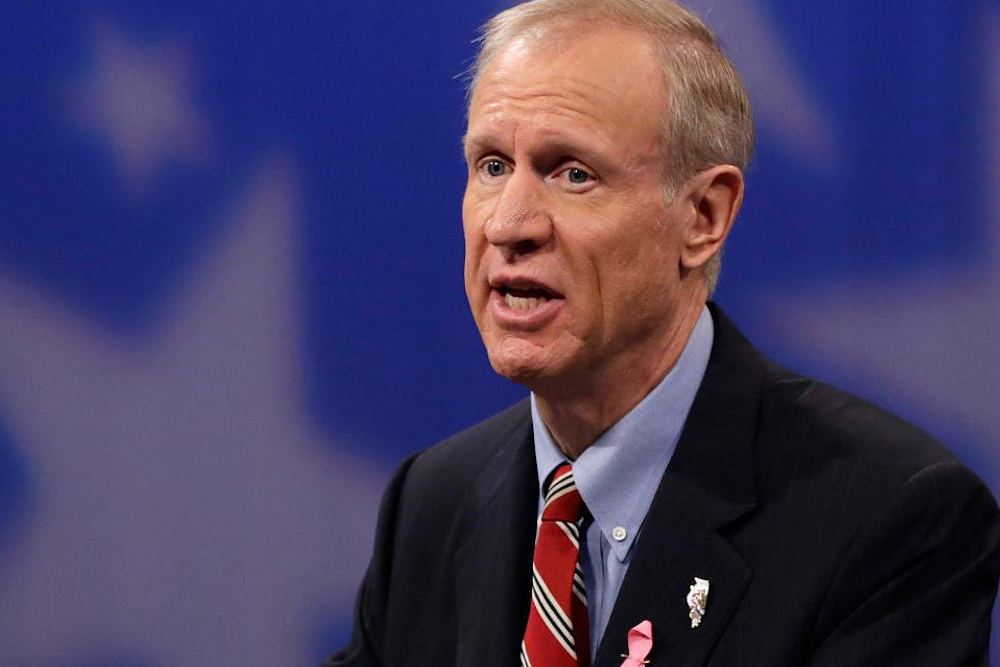 Gov. Bruce Rauner | brucerauner.com
For the past two years, Gov. Bruce Rauner's message has been consistent: Illinois needs major reform to avoid complete financial devastation.
But the fate of his proposed "Turnaround Agenda" is in the hands of the members of the General Assembly. Here's a look at how far some key items on Rauner's wish list have progressed in Springfield.
Illinois' pension system
The state's public pension debt currently sits at $130 billion -- a 17 percent increase from 2015, a November report by the Illinois' Commission on Government Forecasting and Accountability showed.
"Every family in Illinois is on the hook for tens of thousands of dollars in pension costs that we didn't have a say in, and which far surpass what we in the private sector will ever have access to," Diana Sroka Rickert, vice president of communications at the Illinois Policy Institute, wrote in a column for the Chicago Tribune.
The Senate took strides in January to advance a plan that would preserve all currently earned benefits to date, shifting all future work to a Tier 2 pension plan, and a buyout option to reform cost-of-living adjustments in return for a 401(k)-style defined contribution plan, among other measures.
Workers' Compensation
Illinois lawmakers on both sides of the isle seem to agree that the way Illinois handles workers' compensation is costly.
In Illinois, an employee can file a workers' compensation claim and be compensated if their employment is indirectly related to an injury sustained, or aggravates a pre-existing condition.
Rauner proposed to raise the causation standard from an "any cause" standard to a "major contributing cause" standard, meaning employment would have to be more than 50 percent responsible for the injury or worsened pre-existing condition when compared with other causes, among other measures.
In January, the Associated Press reported that Senate President John Cullerton and Minority Leader Christine Radogno (R-Lemont) have negotiated a plan that will enforce stricter rules on workers' compensation claims.
Property Taxes
Property taxes in Illinois are an average of 2.67 percent of one's home value -- more than twice the national average, according to the Chicago Tribune.
Rauner's plan would implement a property tax freeze and allow voters to choose via referendum if they want their property taxes raised, among other measures.
House Bill 6630, sponsored by state Rep. Mark Batinick (R-Plainfield), gave proponents hope that a tax freeze is possible when it passed the House in January on a 76-24 vote.
Term Limits
According to the National Conference of State Legislatures, 15 states impose terms limits on state legislatures. The majority of states with these laws limit service to eight to 12 years in each chamber.
Rauner proposes an amendment to the Illinois Constitution to limit a state representative or senator to no more than 10 years in the General Assembly to curb corruption.
The Illinois Senate voted unanimously to pass a resolution Jan. 11 that imposes a 10-year term limit on leadership positions in the Senate.
A balanced state budget
Ensuring that Illinois lives within its means is paramount to turning the state around. The last time the state passed a balanced budget was in 2001.
"Beginning in 2002 – a year after Illinois' last balanced budget – Illinois started the habit of not paying all of its bills the year they were incurred," Ted Dabrowski, vice president of policy and spokesman for the Illinois Policy Institute, wrote in an article. "Since then, the problem has only worsened."
Rauner has remained steadfast in his quest to make sure lawmakers don't continue to pass operating budgets Illinois taxpayers can't afford.
Want to get notified whenever we write about
Illinois Governor Bruce Rauner
?
Next time we write about Illinois Governor Bruce Rauner, we'll email you a link to the story. You may edit your settings or unsubscribe at any time.
Sign-up for Alerts
Organizations in this Story
Illinois Governor Bruce Rauner
More News