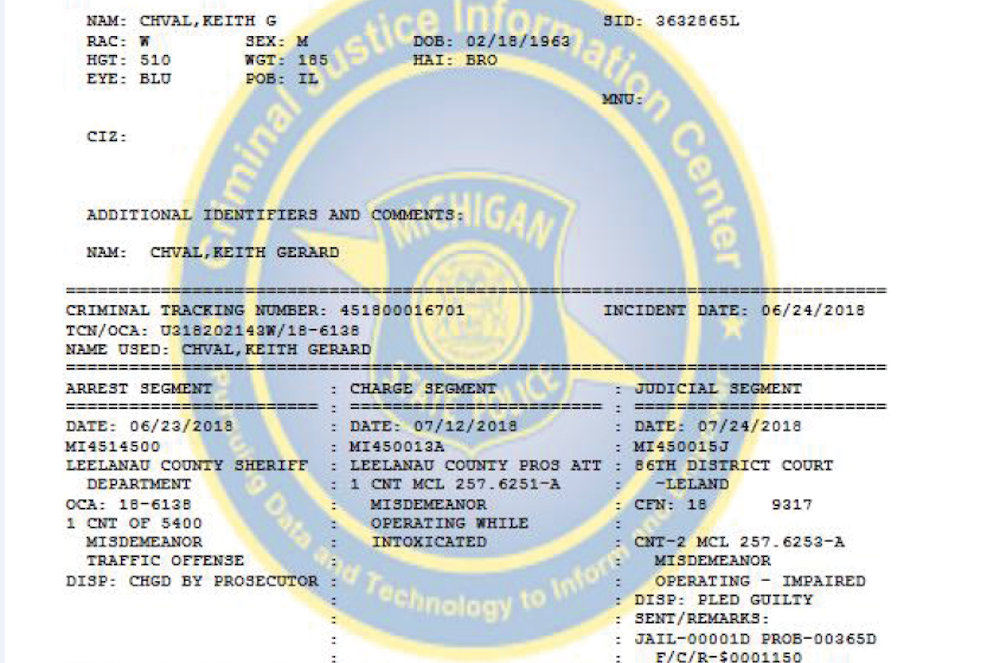 Zach Mottl, the leader of a grassroots movement opposed to the $140 million Hinsdale D86 referendum approved in April, sent an email to the board of education asking for the resignation of member Keith Chval in light of his being charged for operating a vehicle while intoxicated in Michigan last summer.
Mottl also noted in his September 26 email that Chval was one of the leading supporters of a controversial swimming pool at Central High School, which the board approved in September.
"Besides setting a terrible example for the kids, one certainly wonders what state of mind he was in when he voted for Central's $40 million mega-waste-pool, among other decisions," Mottl wrote. "Keith was the champion of those pools that are a boondoggle for the taxpayers, not to mention a real bait and switch move by the BOE after promising the community they wouldn't do that mega pool."

Keith Chval
Documents with the Michigan State Police show that on top of the "operating while intoxicated" charge in June 2018 the 56-year-old Chval was charged with refusing a preliminary breathalyzer test after being stopped in Leelanau County in upper Michigan. He later pleaded guilty to the lesser charge of "operating-impaired." The breathalyzer charge was dismissed.
"Did they give some preferential treatment to a fellow X-prosecutor," Mottl wrote. "I don't know but I also don't think your average Joe-drunk would have received that kind of consideration, consideration which appears to have allowed Board Member Chval to avoid a felony charge and keep the crime hidden from the public. Something smacks of not right."
Chval worked as an assistant in the Illinois Attorney General's office from 1996 to 2005. This is his first term as a board member.
"Please do the right thing," Mottl continued, "and make Mr. Chval step down now, today."
Responding to a request for comment by the Dupage Policy Journal, Chval wrote in an email: "Based upon occasions that I have had in the past to read your publication, it does not appear to adhere to the basic principles of journalism. As such, I have no comment beyond that."
The district responded that it had no comment on Mottl's letter.
Besides approving a 10-lane pool for Central, the board approved a six-lane pool for its other high school, South. The move reignited a bitter debate over what many see as favoritism toward Central over South. A $166 million Hinsdale referendum last fall failed over the size and expense of new pools. Central's "mega" pool was not listed in the projects that were to be funded in the April referendum. Before the April referendum, board members promised more modestly sized pools.