Illinois Municipal League director shares concerns about fund cuts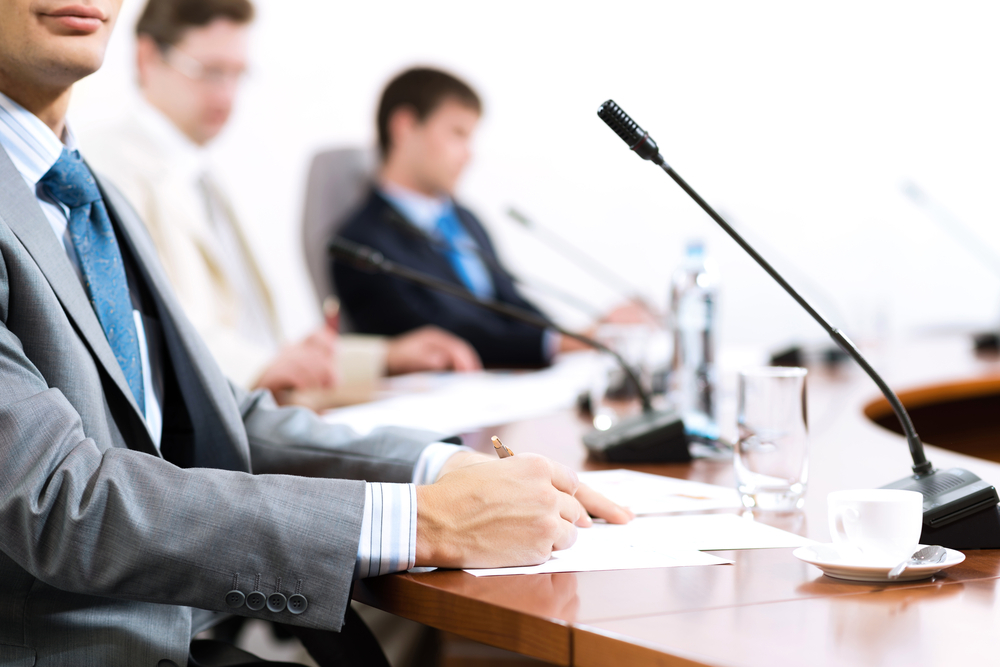 Illinois Municipal League Executive Director Brad Cole had no problem telling senators he was not pleased with a proposal to continue cuts to local governments.
Testifying with three mayors at his side at the May 16 Senate Appropriations I & II Committee hearing, Cole said on behalf of the 1,298 cities, villages and towns in Illinois that the league is concerned with a proposal from Hans Zigmund, Gov. Bruce Rauner's Office of Management and Budget director, to continue cuts to the Local Government Distributive Fund (LGDF).
Illinois Municipal League Director Brad Cole testifying before the Senate Appropriations Committee May 16
"The LGDF revenue is a longstanding and important revenue source relied upon by municipal governments throughout Illinois," Cole said.
Local elected officials have watched with concern their percentage share of the LGDF revenue decrease from a high of 10 percent of total state income tax collection to the current 5.54 percent, he added.
There is a reason for that, said Sen. Jim Oberweis (R-Sugar Grove).
"In Illinois, for 20 or 30 years, we have overspent on programs and we have accustomed to thinking we will find the money somewhere," Oberweis said.
He said would be sorry to cut the 1.5 percent $1 million out of Decatur's $70 million budget, but it must be done.
"A lot of programs are going to have to be cut a lot more than 1.5 percent," Oberweis said.
The state can longer do what it has done for decades, he added, before asking Cole where cuts should come from if not local governments.
"No one has ever asked me that," Cole said, adding he has a list of possible cuts.
Throwing his hands up, Oberweis said that is the one question that should be continually asked.
"We have the answer for that senator, and we have made proposals for that year in and year out about the hundreds and hundreds of unfunded mandates that have been passed down to local governments," Cole said.
After Oberweis asked for the list, Sen. Dale Righter (R-Mattoon) wanted to know from Springfield Mayor James Langfelder and Decatur Mayor Julie Moore considered the consolidation of pension funds for a cost savings measure.
"That is the proposal the treasurer's support as well as myself," Langfelder said.
Moore said Decatur is also supportive of consolidation.
"We have got to make some change in the pension system, it is not sustainable, we all know that," Moore said. "I am not a math genius, but I can tell this is not going to work for a very long time."
Righter then wanted to know to know what percentage of the mayor's property tax levy goes to funding pensions.
"Ours is a 100 percent plus," Langfelder said of Springfield's budget. "It is eating into our other revenue streams now."
Moore said Decatur is seeing the same.
"We used to be able to fund our local roads through the property taxes, but we can't anymore because all of the money that we get from property taxes goes straight into pensions and then some," Moore said.
Righter concluded requesting documents from Cole and the mayors.
"What I am looking for is an effort to repeal the mandates that the municipalities are saying 'this cost me money, Springfield shouldn't be telling me to do this,'" Righter said.
"I can get those to you today, sir," Cole said.
Want to get notified whenever we write about
Illinois State Senate
?
Next time we write about Illinois State Senate, we'll email you a link to the story. You may edit your settings or unsubscribe at any time.
Sign-up for Alerts
Organizations in this Story
More News