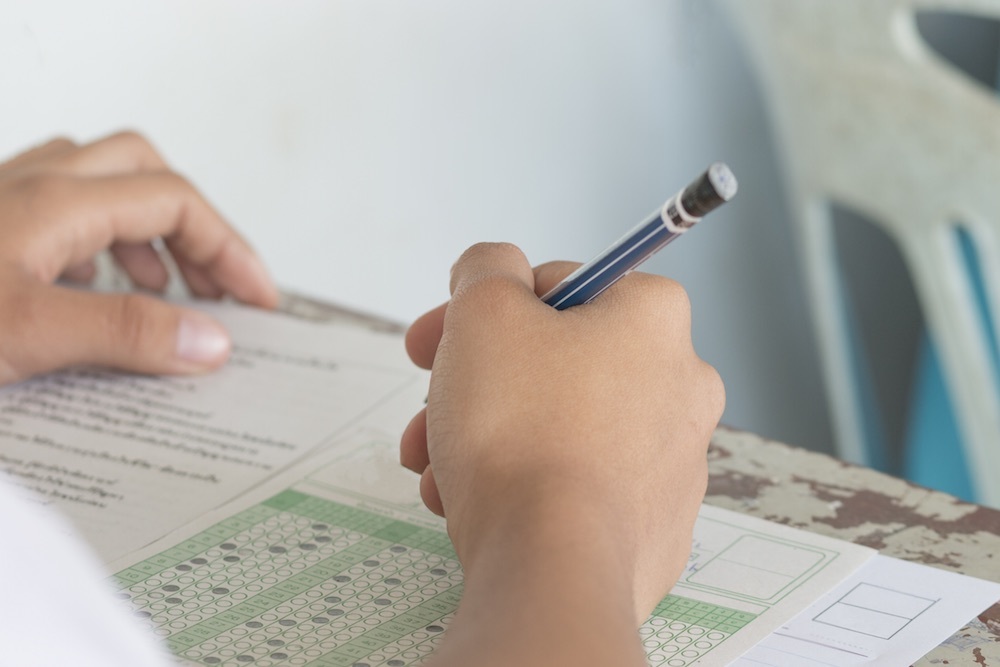 White Eagle Elementary's 2016 standardized test scores increased compared to scores from 2015, according to a report recently released by the Illinois State Board of Education (ISBE).
The ISBE said 67.3 percent of White Eagle Elementary students taking the Partnership for Assessment of Readiness for College and Careers (PARCC) exam in 2016 passed, in comparison to the 62.9 percent passage rate in 2015.
Meanwhile, the school posted an average spending rate of $11,053 per pupil, below the state's average of $12,821.
The PARCC test is a state-mandated exam used to assess the school and student performance in several states nationwide.
The following table lists passage rates of area elementary schools.
Decatur Classical Elementary School
94.7%
Keller Elementary Gifted Magnet School
94.7%
Skinner North Elementary School
94.1%
Edison Elementary Regional Gifted Center
92.8%
McDade Elementary Classical School
91.4%
Meadow Glens Elementary School
84.0%
Poe Elementary Classical School
81.8%
Brook Forest Elementary School
81.3%
Lincoln Elementary School
80.0%
Lenart Elementary Regional Gifted Center
79.5%
Fry Elementary School
79.4%
Skinner Elementary School
78.6%
Highlands Elementary School
78.3%
Madison Elementary School
77.1%
Hawthorne Elementary Scholastic Academy
77.1%
Oak Elementary School
76.6%
Longfellow Elementary School
76.5%
Elm Elementary School
75.9%
Prospect Elementary School
75.2%
Naper Elementary School
75.0%
The Lane Elementary School
74.4%
Burley Elementary School
73.7%
Gower West Elementary School
73.1%
Ranch View Elementary School
73.1%
Monroe Elementary School
72.9%
Robert Clow Elementary School
72.7%
Danielle-Joy Peterson Elementary School
71.9%
Oliver Julian Kendall Elementary School
71.2%
Bell Elementary School
70.4%
Solomon Elementary School
70.3%
Westfield Elementary School
68.9%
Edgebrook Elementary School
68.6%
Erickson Elementary School
68.6%
River Woods Elementary School
67.6%
Bell-Graham Elementary School
67.5%
STEM Magnet Academy Elementary
67.5%
Frederick Nerge Elementary School
67.4%
White Eagle Elementary
67.3%
Norwood Park Elementary School
67.2%
Grace McWayne Elementary School
67.2%
Disney II Elementary School
67.1%
Concord Elementary School
67.1%
Alcott Elementary School
66.4%
The Wheatlands Elementary School
66.4%
Benjamin Franklin Elementary School
66.3%
Madison Elementary School
66.1%
Emerson Elementary School
65.8%
Whittier Elementary School
65.7%
Park View Elementary School
65.4%
V. Blanche Graham Elementary
65.3%
Dujardin Elementary School
65.2%
Wolfs Crossing Elementary School
65.1%
Coonley Elementary School
65.1%
Ellsworth Elementary School
65.0%
Abraham Lincoln Elementary School
64.9%
Wayne Builta Elementary School
64.7%
Prairie Elementary School
64.2%
Owen Elementary School
64.1%
Haines Elementary School
64.1%
Patterson Elementary School
64.1%
Adolph Link Elementary School
63.7%
Jefferson Elementary School
63.3%
Homestead Elementary School
63.1%
Steeple Run Elementary School
62.9%
Spring Brook Elementary School
62.8%
Stone Elementary Scholastic Academy
62.0%
Prairieview Elementary School
61.8%
Wayne Elementary School
61.5%
Drummond Elementary School
61.5%
Brookdale Elementary School
61.5%
Healy Elementary School
61.4%
Kingsley Elementary School
61.3%
Butterfield Elementary School
61.2%
Beaubien Elementary School
61.0%
May Watts Elementary School
60.6%
Nancy Young Elementary School
60.6%
Blaine Elementary School
60.2%
Ebinger Elementary School
60.1%
Briar Glen Elementary School
60.0%
Forest Glen Elementary School
59.9%
Lincoln Elementary School
59.9%
Field Elementary School
59.8%
Jackson A. Elementary Language Academy
59.8%
Wild Rose Elementary School
59.8%
Wiesbrook Elementary School
59.4%
Oriole Park Elementary School
59.4%
Maplebrook Elementary School
59.3%
Mount Greenwood Elementary School
59.3%
Sauganash Elementary School
58.9%
Gwendolyn Brooks Elementary
58.8%
Manor Hill Elementary School
58.8%
Fred Rodgers Magnet Academy
58.7%
Norton Creek Elementary School
58.6%
Galileo Elementary Math & Science Schol Academy
58.6%
Bower Elementary School
58.3%
Park View Elementary School
58.3%
Hawthorne Elementary School
57.7%
Arbor View Elementary School
57.5%
Mayer Elementary School
57.4%
Wildwood Elementary School
57.2%
Scott Elementary School
56.9%
Winfield Central School
56.8%
Lasalle Elementary Language Academy
56.8%
Pleasant Hill Elementary School
56.7%
Munhall Elementary School
56.6%
Hawthorne Elementary School
56.5%
Jackson Elementary School
56.5%
Mill Street Elementary School
56.4%
Mary Lou Cowlishaw Elementary
56.3%
Anne Fox Elementary School
56.3%
Ardmore Elementary School
55.7%
Edison Park Elementary School
55.4%
Pleasant Lane Elementary School
55.4%
Lincoln Elementary School
55.2%
Wm Hammerschmidt Elementary School
54.6%
Cloverdale Elementary School
54.3%
Lowell Elementary School
54.3%
Onahan Elementary School
54.1%
Hoover Wood Elementary School
54.1%
South Loop Elementary School
53.9%
Canty Elementary School
53.8%
Arlene Welch Elementary School
53.7%
Meadowview Elementary School
53.5%
Sheridan Elementary Math & Science Academy
53.1%
Reba O. Steck Elementary School
53.0%
Elmer H. Franzen Intermediate School
53.0%
Elmwood Elementary School
53.0%
Heritage Lakes Elementary School
52.8%
Carl Sandburg Elementary School
52.7%
Madison Elementary School
52.5%
Liberty Elementary School
52.5%
Horizon Elementary School
52.4%
Pierce Downer Elementary School
52.3%
Lasalle II Lang Academy Elementary School
52.3%
Schiesher Elementary School
52.2%
Louise White Elementary School
52.0%
Fairmount Elementary School
52.0%
J. B. Nelson Elementary School
51.7%
Sycamore Trails Elementary School
51.5%
Edison Elementary School
51.5%
Roy De Shane Elementary School
51.4%
Emerson Elementary School
51.3%
Nettelhorst Elementary School
51.1%
Audubon Elementary School
51.1%
Washington Elementary School
51.0%
Prescott Elementary School
51.0%
Goodrich Elementary School
50.9%
Evergreen Elementary School
50.9%
Ogden Elementary School
50.8%
Maercker Elementary School
50.7%
Ward J. Elementary School
50.4%
Disney Elementary Magnet School
50.3%
Hanover Highlands Elementary School
49.9%
H. C. Storm Elementary School
49.3%
Alice Gustafson Elementary School
49.0%
Prairieview Elementary School
48.8%
Beebe Elementary School
48.7%
Twain Elementary School
48.7%
Belle Aire Elementary School
48.7%
Thorp O. A. Elementary Scholastic Academy
48.7%
Mitchell Elementary School
48.6%
J. T. Manning Elementary School
48.6%
Bridge Elementary School
48.5%
Earhart Elementary Opt For Knowl School
48.5%
Waters Elementary School
47.6%
Lincoln Elementary School
47.6%
Burr Elementary School
46.5%
Bartlett Elementary School
46.5%
Churchill Elementary School
46.2%
Hamilton Elementary School
46.0%
Garvy J. Elementary School
45.9%
Dirksen Elementary School
45.8%
Pritzker Elementary School
45.5%
Spring Trail Elementary School
45.4%
Whittier Elementary School
45.2%
Lace Elementary School
45.0%
Liberty Elementary School
44.9%
West Ridge Elementary School
44.7%
Burroughs Elementary School
44.6%
Adlai Stevenson Elementary School
44.4%
Winnebago Elementary School
44.4%
Kinzie Elementary School
44.4%
Ravenswood Elementary School
44.2%
Greeley Elementary School
44.0%
Stone Elementary School
44.0%
William F. Murphy Elementary School
43.8%
Westmore Elementary School
43.7%
Perez Elementary School
43.5%
Albert Einstein Elementary School
43.4%
Hillcrest Elementary School
43.3%
Hawk Hollow Elementary School
43.2%
Western Trails Elementary School
43.2%
Chappell Elementary School
42.9%
Spring Hills Elementary School
42.9%
Willow Creek Elementary School
42.8%
Pulaski International School of Chicago
42.8%
Jamieson Elementary School
42.3%
Wesley Elementary School
41.8%
Kellogg Elementary School
41.4%
Jay Stream Middle School
41.0%
Dever Elementary School
40.9%
Hitch Elementary School
40.8%
Rogers Elementary School
40.6%
Nature Ridge Elementary School
40.5%
Farnsworth Elementary School
40.4%
Pheasant Ridge Primary School
40.3%
C. E. Miller Elementary School
40.1%
Highland Elementary School
40.0%
Longwood Elementary School
39.7%
Franklin Elementary Fine Arts Center
39.7%
Lester Elementary School
39.6%
Jonas E. Salk Elementary School
39.0%
Ray Elementary School
38.9%
Cardenas Elementary School
38.8%
Newberry Elementary Math & Science Academy
38.7%
Clifford Johnson School
38.7%
Brennemann Elementary School
38.4%
Carol Stream Elementary School
38.4%
Peter M. Gombert Elementary School
38.2%
McCarty Elementary School
38.2%
Goudy Technology Academy
38.2%
Reskin Elementary School
38.2%
Anderson Elementary School
37.7%
Orozco Elementary Fine Arts & Sciences
37.7%
Pioneer Elementary School
37.6%
Peirce Elementary International Studies School
37.6%
Clearmont Elementary School
37.5%
Chicago Academy Elementary School
37.4%
Inter-American Elementary Magnet School
37.1%
Kingsley Elementary School
36.8%
Smyser Elementary School
36.8%
Zapata Elementary Academy
36.7%
Ridge Family Center For Learning
36.2%
Goethe Elementary School
36.1%
Budlong Elementary School
36.0%
Hayt Elementary School
36.0%
Grissom Elementary School
35.6%
York Center Elementary School
35.5%
Stella May Swartz Elementary School
35.2%
Waterbury Elementary School
34.9%
Prussing Elementary School
34.9%
Murray Elementary Language Academy
34.9%
Freeman Elementary School
34.8%
Conrad Fischer Elementary School
34.7%
Durkin Park Elementary School
34.7%
Washington G. Elementary School
34.5%
Dore Elementary School
34.2%
Byrne Elementary School
34.1%
Reinberg Elementary School
34.0%
Elsie C. Johnson Elementary School
33.7%
Hale Elementary School
33.7%
Grimes Elementary School
33.7%
Agassiz Elementary School
33.6%
Addams Elementary School
32.9%
Owen Elementary Scholastic Academy
32.9%
John L. Sipley Elementary School
32.9%
Peterson Elementary School
32.8%
Frazier Perspectives Magnet Elementary School
32.6%
Edgewood Elementary School
32.5%
Murphy Elementary School
32.5%
Swift Elementary Specialty School
32.4%
Armstrong G. Elementary International Studies
32.3%
Chavez Elementary Multicultural Academy Center
32.2%
Linne Elementary School
32.2%
Columbia Explorers Elementary Academy
32.0%
Clinton Elementary School
31.8%
Columbus Elementary School
31.8%
Dixon Elementary School
31.7%
Turner-Drew Elementary Language Academy
31.7%
Azuela Elementary School
31.6%
Tonti Elementary School
31.5%
Garcia Lorca Elementary School
31.1%
Westview Elementary School
31.0%
New Field Elementary School
31.0%
Shoesmith Elementary School
30.9%
Cleveland Elementary School
30.9%
Stevenson Elementary School
30.7%
Boone Elementary School
30.5%
McClellan Elementary School
30.0%
Field Elementary School
29.8%
Palmer Elementary School
29.8%
Black Hawk Elementary School
29.8%
Holden Elementary School
29.5%
Americana Intermediate School
29.4%
Lyon Elementary School
29.4%
Sutherland Elementary School
29.1%
Gunsaulus Elementary Scholastic Academy
28.9%
Dawes Elementary School
28.9%
Peck Elementary School
28.9%
Gray Elementary School
28.8%
Haugan Elementary School
28.8%
Locke J. Elementary School
28.4%
Everett Elementary School
28.4%
Hanson Park Elementary School
28.3%
Casals Elementary School
28.3%
Hurley Elementary School
28.2%
Pershing Elementary Humanities Magnet
28.0%
McCutcheon Elementary School
28.0%
G. Stanley Hall Elementary School
27.9%
Portage Park Elementary School
27.8%
Salazar Elementary Bilingual Center
27.7%
Whitney Elementary School
27.6%
Kershaw Elementary School
27.2%
Corkery Elementary School
27.1%
Clissold Elementary School
26.9%
Cassell Elementary School
26.8%
Kipling Elementary School
26.7%
McPherson Elementary School
26.7%
Lee Elementary School
26.4%
Carnegie Elementary School
26.4%
Brown R. Elementary Community Academy
26.4%
Indian Trail Elementary School
26.3%
Sandoval Elementary School
26.3%
Carson Elementary School
26.3%
Webster Elementary School
25.8%
Logandale Middle School
25.6%
Schafer Elementary School
25.6%
Hibbard Elementary School
25.5%
Talman Elementary School
25.4%
Jamie McGee Elementary School
25.4%
Camras Elementary School
25.3%
Dunne Technology Academy Elementary School
25.3%
Burbank Elementary School
25.1%
National Teachers Elementary Academy
25.0%
Volta Elementary School
25.0%
Lozano Elementary Bilingual & International Center
25.0%
Pasteur Elementary School
24.9%
Burnside Elementary Scholastic Academy
24.8%
Hefferan Elementary School
24.7%
Beasley Elementary Magnet Academic Center
24.6%
Belding Elementary School
24.6%
Saucedo Elementary Scholastic Academy
24.6%
Plamondon Elementary School
24.6%
Charles J. Sahs Elementary School
24.5%
Clark G. R. Elementary School
24.5%
Greene N. Elementary School
24.4%
W. A. Johnson School
24.3%
Tioga Elementary School
24.1%
Ericson Elementary Scholastic Academy
24.0%
Independence Elementary School
23.9%
Woodlawn Elementary Community School
23.9%
Evergreen Academy Elementary School
23.9%
Bateman Elementary School
23.6%
Fullerton Elementary School
23.6%
Jungman Elementary School
23.6%
Georgetown Elementary School
23.6%
Lloyd Elementary School
23.5%
Sherwood Elementary School
23.4%
Pirie Elementary Fine Arts & Academic Center
23.4%
Henry Elementary School
23.2%
Colemon J. Elementary Academy
22.9%
Garvey M. Elementary School
22.9%
North Elementary School
22.9%
Castellanos Elementary School
22.9%
Ruiz Elementary School
22.8%
Davis M. Magnet Elementary School
22.8%
Irving Elementary School
22.8%
John R. Tibbott Elementary School
22.7%
Brentano Elementary Math & Science Academy
22.6%
Anne M. Jeans Elementary School
22.5%
Salt Creek Elementary School
22.4%
Cooper Elementary Dual Language Academy
22.2%
Falconer Elementary School
22.0%
Talcott Elementary School
21.8%
Laurel Hill Elementary School
21.8%
Shields Elementary School
21.6%
Whistler Elementary School
21.6%
Chase Elementary School
21.2%
McDowell Elementary School
21.2%
Kilmer Elementary School
21.1%
Hernandez Middle School
21.1%
Rupley Elementary School
20.9%
Harte Elementary School
20.9%
Hill Elementary School
20.7%
Tarkington Elementary School
20.7%
Sayre Elementary Language Academy
20.7%
El Sierra Elementary School
20.7%
Ontarioville Elementary School
20.7%
Pickard Elementary School
20.6%
Monroe Elementary School
20.5%
McCormick Elementary School
20.5%
Armour Elementary School
20.4%
Lake Park Elementary School
20.3%
Vanderpoel Elementary Magnet School
20.2%
Scammon Elementary School
20.2%
Hall Elementary School
20.1%
Lara Elementary Academy
20.0%
Turner Elementary School
19.8%
Darwin Elementary School
19.8%
Mozart Elementary School
19.8%
Gary Elementary School
19.8%
Higgins Elementary Community Academy
19.7%
Green W. Elementary School
19.7%
Sawyer Elementary School
19.6%
Hendricks Elementary Community Academy
19.6%
Calmeca Academy Elementary School
19.5%
Little Village Elementary School
19.5%
Nobel Elementary School
19.5%
Reilly Elementary School
19.4%
Jahn Elementary School
19.4%
Schubert Elementary School
19.4%
Bouchet Elementary Math & Science Academy
19.3%
Nightingale Elementary School
19.3%
Morton Elementary Career Academy
19.2%
Davis N. Elementary School
19.1%
Lowell Elementary School
19.0%
Ariel Elementary Community Academy
18.9%
Wood View Elementary School
18.8%
Coles Elementary Language Academy
18.7%
Greenbrook Elementary School
18.7%
Barnard Elementary Comp Math & Science Center
18.6%
Sumner Elementary Math & Science Community Academy
18.5%
Hope Inst Learning Academy Elementary School
18.5%
Otis Elementary School
18.5%
McCleery Elementary School
18.4%
Taylor Elementary School
18.3%
Wegner Elementary School
18.2%
Wadsworth Elementary School
18.2%
Hoyne Elementary School
18.1%
Clay Elementary School
18.0%
Chopin Elementary School
17.9%
Hedges Elementary School
17.9%
Hampton Elementary Fine & Performing Arts School
17.9%
Wells Preparatory Elementary Academy
17.9%
North River Elementary School
17.9%
Telpochcalli Elementary School
17.8%
Mason Elementary School
17.8%
Eberhart Elementary School
17.6%
Warren Elementary School
17.5%
Sabin Elementary Magnet School
17.5%
Suder Montessori Elementary Magnet School
17.5%
Marsh Elementary School
17.4%
Penn Elementary School
17.3%
Ardmore Elementary School
17.3%
Hammond Elementary School
17.2%
Carroll Elementary School
17.1%
Gallistel Elementary Language Academy
17.0%
Christopher Elementary School
17.0%
Courtenay Elementary Language Arts Center
17.0%
Finkl Elementary School
16.8%
Shoop Math-Sci Tech Elementary Academy
16.8%
Black Magnet Elementary School
16.8%
Prieto Math-Science Elementary School
16.7%
Cuffe Math-Science Tech Elementary Academy
16.7%
Burnham Elementary Inclusive Academy
16.6%
Yates Elementary School
16.6%
Smith Elementary School
16.5%
Edwards Elementary School
16.4%
Admiral Richard E. Byrd Elementary School
16.3%
Pilsen Elementary Community Academy
16.2%
Seward Elementary Communication Arts Academy
16.1%
Haley Elementary Academy
16.0%
Gary Elementary School
15.9%
Hughes C. Elementary School
15.8%
Esmond Elementary School
15.8%
De Diego Elementary Community Academy
15.7%
Cameron Elementary School
15.5%
Albany Park Multicultural Elementary
15.5%
Greenman Elementary School
15.5%
Graham A. Elementary School
15.4%
Ashburn Community Elementary School
15.4%
Bennett Elementary School
15.4%
Gillespie Elementary School
15.4%
Fernwood Elementary School
15.3%
Joplin Elementary School
15.2%
Jordan Elementary Community School
15.2%
Carter Elementary School
15.2%
Bernard J. Ward Elementary School
15.2%
Oak View Elementary School
15.1%
Kozminski Elementary Community Academy
15.1%
Daley Elementary Academy
15.0%
Kellman Corporate Community Elementary
15.0%
Army Trail Elementary School
14.9%
Marshall Middle School
14.9%
Faraday Elementary School
14.9%
Okeeffe Elementary School
14.7%
Fort Dearborn Elementary School
14.6%
Beidler Elementary School
14.4%
Marquette Elementary School
14.4%
McKay Elementary School
14.4%
Spry Elementary Community School
14.3%
Libby Elementary School
14.3%
Parkwood Elementary School
14.3%
Whittier Elementary School
14.2%
Powell Elementary Paideia Community Academy
14.1%
Dodge Elementary School
14.1%
Gregory Math & Science Elementary Academy
13.7%
McAuliffe Elementary School
13.4%
West Park Elementary Academy
13.3%
Evers Elementary School
12.9%
Nixon Elementary School
12.9%
South Shore Fine Arts Elementary School
12.8%
Barry Elementary School
12.8%
Ward L. Elementary School
12.7%
Mount Vernon Elementary School
12.7%
Northwest Middle School
12.6%
Belmont-Cragin Elementary School
12.5%
Brown W. Elementary School
12.5%
Moos Elementary School
12.4%
Pioneer Elementary School
12.4%
Olney C. Allen Elementary School
12.4%
Carver Primary School
12.4%
Shields Middle School
12.3%
Mabel O. Donnell Elementary School
12.3%
Hay Elementary Community Academy
12.0%
Indian Knoll Elementary School
12.0%
Young Elementary School
11.9%
Pullman Elementary School
11.9%
Kanoon Elementary Magnet School
11.9%
Ryder Elementary Math & Science Special School
11.8%
Tanner Elementary School
11.8%
C. M. Bardwell Elementary School
11.8%
Sherman Elementary School
11.7%
Ruggles Elementary School
11.7%
Marine Leadership Academy at Ames
11.6%
Cather Elementary School
11.6%
Mireles Elementary Academy
11.5%
Park Manor Elementary School
11.3%
Washington H. Elementary School
11.2%
C. I. Johnson Elementary School
11.2%
Walsh Elementary School
11.2%
Piccolo Elementary Specialty School
11.0%
Westcott Elementary School
10.9%
Jensen Elementary Scholastic Academy
10.9%
Ninos Heroes Elementary Academic Center
10.9%
Funston Elementary School
10.8%
Fulton Elementary School
10.6%
Bright Elementary School
10.6%
Ellington Elementary School
10.6%
Howe Elementary School
10.6%
Hamline Elementary School
10.5%
Dewey Elementary Academy of Fine Arts
10.4%
Reavis Elementary Math & Science Special School
10.3%
Fairfield Elementary Academy
10.3%
Till Elementary Math & Science Academy
10.3%
Mays Elementary Academy
10.2%
Cullen Elementary School
10.1%
Owens Community Academy Elementary School
10.1%
Lovett Elementary School
10.1%
Johnson Elementary School
9.9%
Nicholson Technology Academy Elementary School
9.9%
Dvorak Technology Academy Elementary School
9.9%
White Elementary Career Academy
9.8%
Brownell Elementary School
9.6%
Deneen Elementary School
9.6%
Fuller Elementary School
9.6%
John Gates Elementary School
9.5%
Revere Elementary School
9.5%
Hearst Elementary School
9.5%
Parker Elementary Community Academy
9.4%
Otoole Elementary School
9.2%
Gale Elementary Community Academy
9.1%
Robinson Elementary School
9.1%
Brighton Park Elementary School
9.1%
G. N. Dieterich Elementary School
9.0%
Foster Park Elementary School
9.0%
Sullivan Elementary School
8.9%
Mann Elementary School
8.9%
Schmid Elementary School
8.9%
Parkside Elementary Community Academy
8.8%
Claremont Academy Elementary School
8.6%
Avalon Park Elementary School
8.5%
Dubois Elementary School
8.5%
Plato Learning Academy Elementary School
8.5%
Herzl Elementary School
8.4%
Hughes L. Elementary School
8.4%
Wentworth Elementary School
8.3%
Bond Elementary School
8.2%
Ashe Elementary School
8.2%
Henderson Elementary School
8.1%
Nicholas A. Hermes Elementary School
8.0%
McNair Elementary School
7.9%
Spencer Technology Academy Elementary School
7.8%
Beethoven Elementary School
7.8%
Depriest Elementary School
7.8%
Currier Elementary School
7.6%
Edna Rollins Elementary School
7.6%
Smith W. Elementary School
7.5%
Metcalfe Elementary Community Academy
7.5%
Gresham Elementary School
7.4%
Nash Elementary School
7.3%
Smyth J. Elementary School
7.3%
Madison Elementary School
7.3%
Lincoln Elementary School
7.2%
Mollison Elementary School
7.0%
Earle Elementary School
6.9%
Rose E. Krug Elementary School
6.9%
King Academy of Social Justice
6.7%
Harvard Elementary School
6.7%
Lewis Elementary School
6.6%
Randolph Elementary School
6.4%
Wacker Elementary School
6.3%
Lavizzo Elementary School
6.2%
Oak Park Elementary School
6.2%
Fiske Elementary School
6.2%
Drake Elementary School
6.2%
Holmes Elementary School
6.2%
Stowe Elementary School
6.2%
Morrill Elementary Math & Science School
6.1%
Jackson M. Elementary School
6.1%
Curtis Elementary School
6.0%
Neil Elementary School
6.0%
Lawndale Elementary Community Academy
5.9%
Barton Elementary School
5.9%
Bradwell Community Arts & Science Elementary School
5.8%
Cook Elementary School
5.8%
Crown Elementary Community Academy Fine Arts Center
5.8%
W. S. Beaupre Elementary School
5.5%
Tilton Elementary School
5.3%
Manierre Elementary School
5.3%
L. D. Brady Elementary School
5.3%
Langford A. Elementary School
5.3%
Caldwell Elementary Academy of Math & Science
5.2%
Stagg Elementary School
5.1%
Aldridge Elementary School
5.0%
Oglesby Elementary School
4.9%
Melody Elementary School
4.9%
Bass Elementary School
4.7%
Leland Elementary School
4.6%
Burke Elementary School
4.1%
Dulles Elementary School
4.1%
Woodson South Elementary School
4.0%
Chalmers Elementary Specialty School
3.9%
Dett Elementary School
3.9%
Brunson Math & Science Specialty Elementary
3.6%
Thorp J. N. Elementary School
2.8%
Doolittle Elementary School
2.4%
Jenner Elementary Academy of The Arts
1.9%