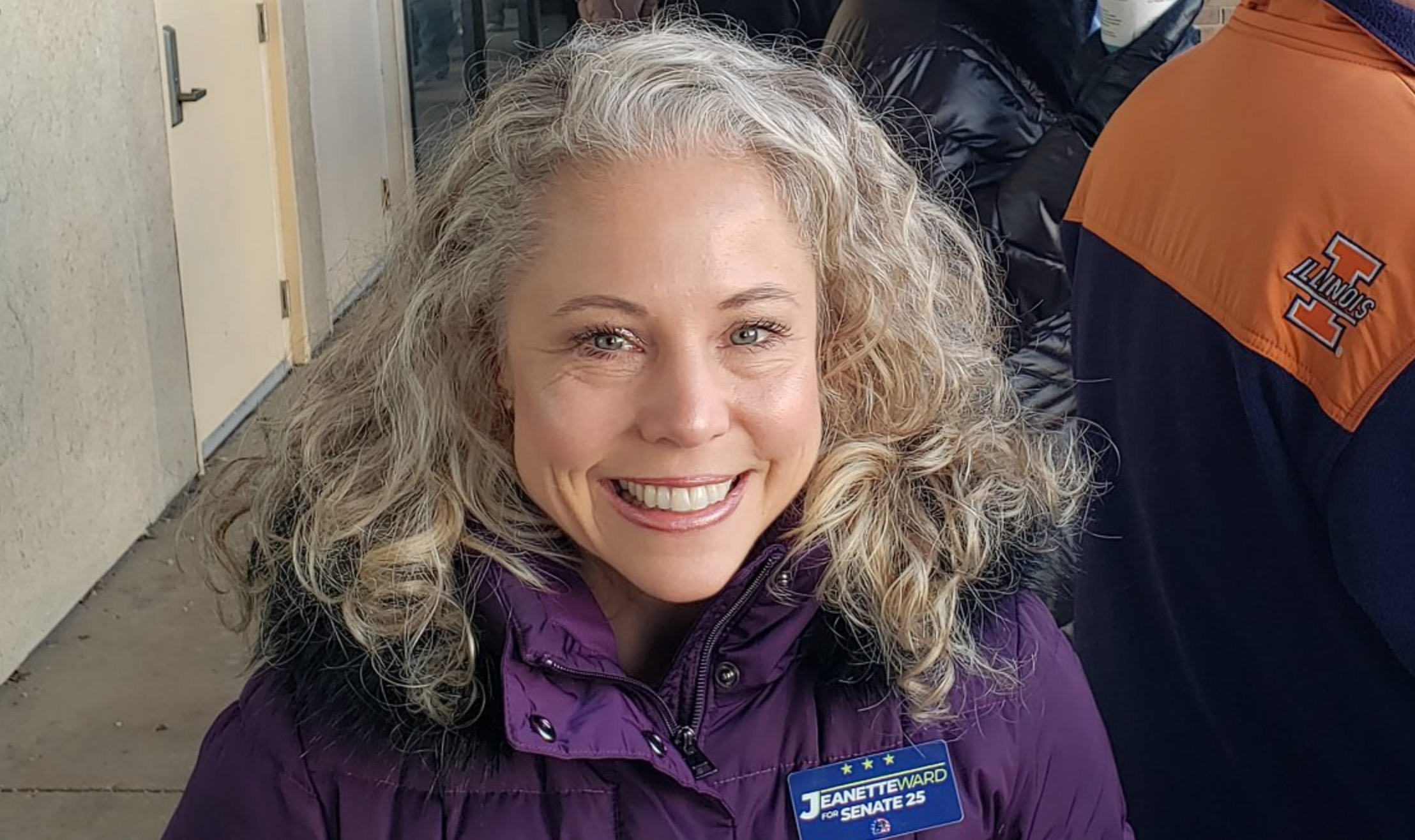 Jeanette Ward is the GOP candidate for state Senate District 25.
Jeanette Ward, who won the GOP nomination for the state Senate District 25 in the March 17 primary, will not accept a government pension.
Ward will face state Rep. Karina Villa (D-West Chicago), who currently represents state House District 49, on Tuesday, Nov. 3. The state pension system, of which Villa is currently a participant as a state representative, is in a deep hole, more than $100 billion in debt.
Villa voted, along with other Illinois legislators, to raise her pay during the 2019 session, lifting it to around $70,000, with additional pay for committee chairs and other duties. They also receive per diems, mileage reimbursement and additional benefits including insurance, money for office costs and the state pension.

State Rep. Karina Villa (D-West Chicago).
The General Assembly Retirement System, or GARS, is very low on funds and constantly receives taxpayer support to function.
Ward said receiving a pension is not even a question for her.
"I will NOT accept a public pension if elected," Ward said told DuPage Policy Journal.
The seat is being vacated by state Sen. Jim Oberweis, who is running for Illinois' 14th Congressional District seat. He has endorsed Ward.
Ward said pension reform is an essential issue that must be addressed.
"(Pension reform) is the number-one fiscal necessity as it currently consumes a quarter of the budget," Ward said.
Ward said if elected she will be intensely focused on the issue.
"Illinois has anywhere from $137 billion to $250 billion — depending upon the rating agency — in unfunded pension liability," Ward said. "While we must keep our promises to those who are near retirement age, we must also change our defined benefit system to a defined contribution system and ensure that double and triple dipping is ended. This will require an amendment to the Illinois Constitution to repeal the pension protection clause. It is the only way we can begin to pull our state back from the brink of financial insolvency."
She said there are options worth exploring.
"If it is possible for Illinois to encourage small businesses in the private sector to assist their employees to begin saving for retirement, couldn't similar programs be implemented for government employees?" Ward asked rhetorically.
She said there are other factors to consider as well.
The question of political will should also be raised. The supermajority in the Illinois General Assembly had no problem erroneously amending the Illinois Constitution to establish a 'lock box' for road funding; why was an amendment needed to simply do the right thing?" Ward said. "Yet, they keep issues like pension reform and Fair Maps from reaching referendum for the will of the people to decide."
Ward served a four-year term on the School District U-46 Board of Education. She was elected in 2015 but lost a bid for a second term in 2019.
The 25th Seante District includes the communities of Aurora, Bartlett, Batavia, Campton Hills, Elburn, Geneva, Montgomery, Naperville, North Aurora, Oswego, Plano, South Elgin, St. Charles, Sugar Grove, Warrenville, Wayne, West Chicago and Yorkville.