State Rep. Dianne Pappas fails to follow up on castration remark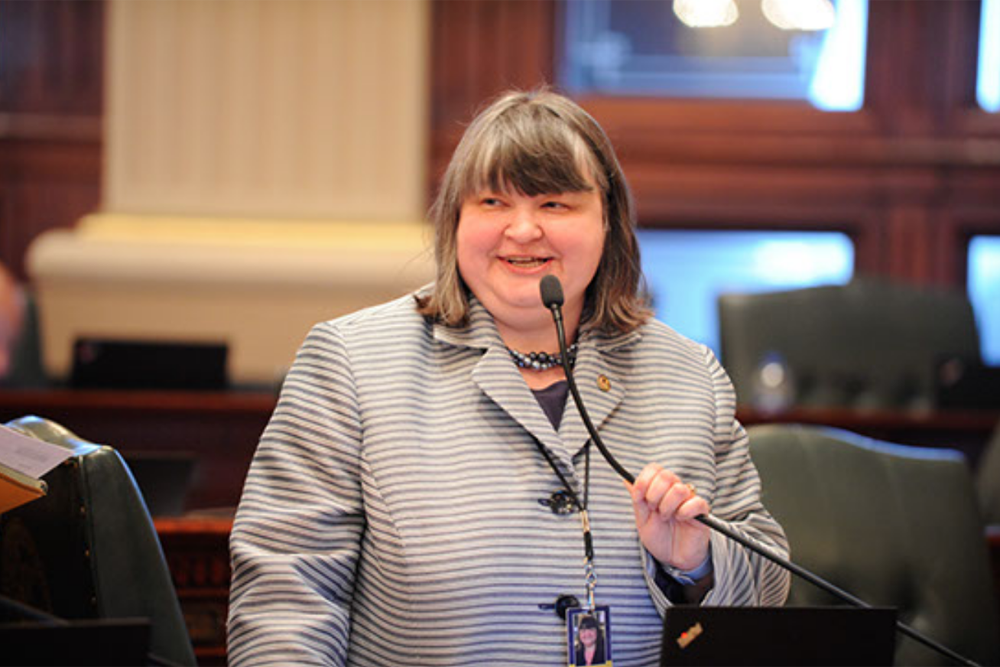 State Rep. Dianne Pappas (D-Itasca)
State Rep. Dianne Pappas (D-Itasca) has suddenly grown silent in the simmering debate over her recently reported comments about abortion and the Reproductive Health Act bill.
Repeated messages left at her office by the DuPage Policy Journal went unanswered in the wake of Wayne Township Republican trustee Jackie Hayden recently alleging Pappas proposed "castration" as a way of remedying the problem of abortion and dealing with House Bill 2495, which would make Illinois home to the most unrestricted abortion access in the country.
"You know, ladies, with technology the way it is, we wouldn't have an abortion problem if we applied a plan," Pappas said, according to a recounting from Hayden of a recent meeting she attended at Pappas' Bloomingdale office in an article posted to the Wayne County Republican organization website. "Now, I've been told it's a bit radical, but if we allowed men to be castrated, took the sperm to the bank, collected tax dollars on it for storage, then when it's time, to have the man decide he's ready to begin a family ... well then problem is solved."
Hayden said she has every reason to believe Pappas meant what she said given she was recently contacted by someone from the Holy Ghost Parish in Itasca insisting that the first-year lawmaker made a similar comment during a recent meeting Pappas held with her group.
"She said the same thing to us when we met with her in Springfield a couple of weeks ago," the anonymous source said. "I belong to Holy Ghost Parish in Wood Dale, which is in her district. A couple of parishioners were meeting with her. Wonder if she told them the same thing?"
Hayden said she and her pro life group of supporters tried to keep politics out of their meeting with Pappas, but soon realized they had no chance of changing her mind when it came to her bottom-line position.
"Thinking back on this, and seeing the faces of the women who were with me, didn't leave me speechless but agitated," Hayden added in the article. "Anything bipartisan, just went out the door with that comment."
Hayden recalled how Pappas then went on to insist how debating about HB 2495 was a moot issue because the legislation was dead and wouldn't be up for review for at least another year.
"Well, I checked the status and, as of March 29, it's currently in the powerful rules committee, and we know how that can go," Hayden added. "Planned Parenthood is pushing hard for the passage of this bill. Diane Pappas feels that there are more important bills at stake, such as the progressive tax, the legalization of marijuana and education."
Hayden said the entire episode has left her as motivated as ever to fight against HB 2495.
"We will be organizing again shortly," she wrote. "Personal PAC is going to hold a pro choice event May 1 in Springfield. If you are as outraged by this event as we were, keep your eye out for more information. It is important for us to keep up the pressure on those who were elected to represent us."
Pappas' 45th District covers all or parts of Bartlett, Hanover Park, West Chicago, Wayne, Carol Stream, Bloomingdale, Itasca, Roselle, Wood Dale, Medinah and Addison.
Want to get notified whenever we write about any of these organizations ?
Next time we write about any of these organizations, we'll email you a link to the story. You may edit your settings or unsubscribe at any time.
Sign-up for Alerts
Organizations in this Story
State of Illinois General Assembly • Wayne County Republican Central Committee
More News