This week in Illinois History: Dec. 3-9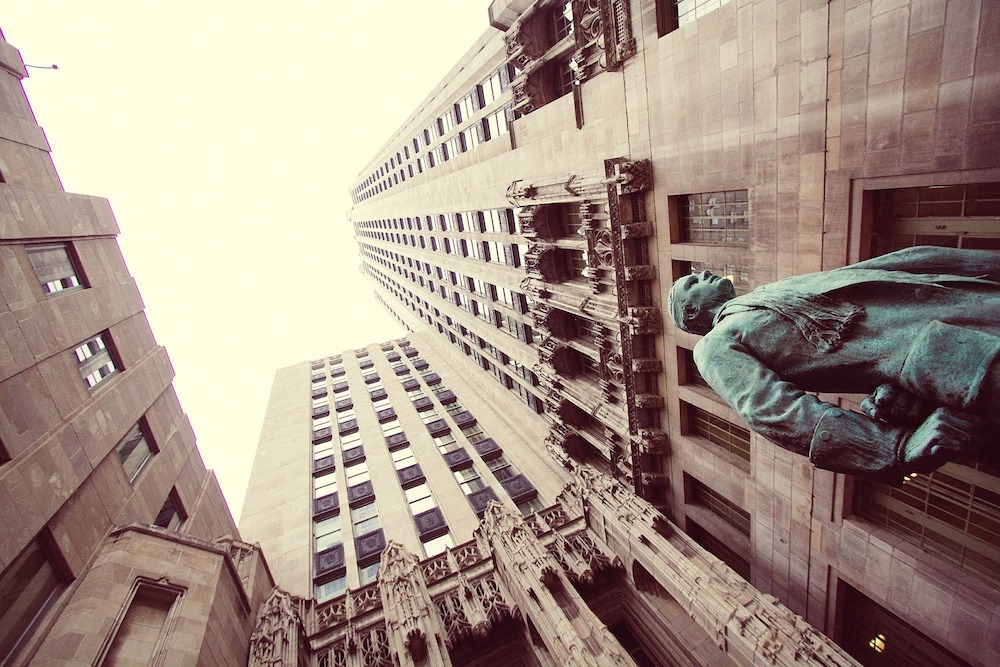 Tribune Tower, Chicago
Dec. 3, 1818 - Illinois. The United States gained Illinois as its 21st state. Named after a "tribe of superior men" in Algonquin Indian language, Illinois originally had only a handful of counties, rather than the 102 it boasts today. According to the Illinois History Journal's Digital Research Library, the prairie land (lacking trees) challenged early settlers. However, by the time of statehood, 35,000 had settled "in the southern part of the state," where trees were plentiful.
Dec. 4, 1921 - Chicago. U.S. Postmaster General shut down a circulation war between the Chicago Tribune and Herald-Examiner. The rival papers had a long-standing rivalry, as the Illinois History Journal's Digital Research Library reports. But when the Herald-Examiner began publishing coupons in the paper that entitled holders to a chance at a $1,000 prize, it created a buzz the Tribune couldn't ignore. They upped the ante, with the pot eventually reaching $100,000, with $3,000 to $5,000 daily giveaways. Circulation for both papers soared, until the Post Office declared it an illegal lottery and ended the contest.
Dec. 5, 1901 - Hermosa. Cartoon mogul and amusement park entrepreneur Walt Disney was born. Disney took home almost two dozen Oscars during his lifetime, according to his entry on Biography.com, but his theme parks in Florida and California are arguably his best-known contribution. His most famous creation, Mickey Mouse, came along in the 1920s, with Disney voicing the character himself. His studio went on to produce such animated classics as Snow White and the Seven Dwarfs, Peter Pan, Lady and the Tramp, Mary Poppins and many others.
Dec. 6, 1830 - Springfield. Illinois named John Reynolds as governor. Not only was Reynolds, a second-generation Irishman and a politician, he also published a history of the state in 1852, according to IllinoisAncestors.org. His book covered the years between 1673 and 1818, when Illinois became a state. An accomplished woodsman, Reynolds also was elected to Congress once his governorship expired, and later served in the state Legislature, representing St. Clair County.
Dec. 7, 1947 - Chicago. Wilton Daniel Gregory, the first African-American to head a Catholic Episcopal conference, was born in Chicago. By the time Gregory led the U.S. Conference of Catholic Bishops between 2001-04, he had earned three degrees in theology from St. Mary of Lake Seminary, according to the Museum of African-American History. He later earned a doctorate in sacred liturgy from the Pontifical Liturgical Institute in Rome.
Dec. 8, 1967 - Chicago. An airplane crash claims the life of Robert Henry Lawrence Jr., the first African-American to train as an astronaut. As the Museum of African American History reports, Lawrence, born in 1935, became a U.S. Air Force pilot after earning his Chemistry degree at age 20 from Bradley University. He earned 2,500 flight hours and completed a Ph.D. in nuclear chemistry in 1965. A school for mathematics and science in Chicago bears his name.
Dec, 9, 1846 - Springfield. Illinois, voters elect their ninth governor, Augustus French. Left an orphan in childhood and forced to drop out of Dartmouth College, French eventually passed the bar exam in the days before college was mandatory. According to the Illinois History Journal's Digital Research Library, French "eliminated the entire state deficit and adopted a new Illinois constitution."
Want to get notified whenever we write about
Chicago Tribune Company
?
Next time we write about Chicago Tribune Company, we'll email you a link to the story. You may edit your settings or unsubscribe at any time.
Sign-up for Alerts
Organizations in this Story
More News