Hinsdale's proposed $166 million referendum faces opposition
Zach Mottl
A $166 million referendum proposed by Hinsdale High School District 86 won't win voter approval in November without a tough fight from a newly-formed political committee.
Zach Mottl, chairman of "District 86 Vote No on Tax Increase to Do Better," told the DuPage Policy Journal that many members of the committee were the same ones who in early June of this year filed a petition with the Office of Civil Rights (OCR) in the U.S. Department of Education charging the district with discrimination.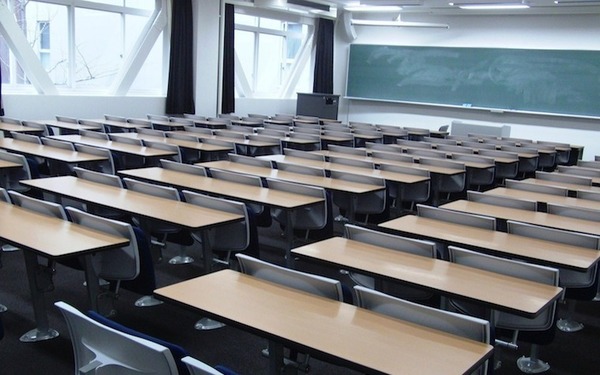 Classroom
The group argued that a better curriculum and available student activities at Hinsdale Central High School over Hinsdale South High School violates the rights of the students at South.
"The school board doesn't deserve to be trusted with any more of the taxpayers' money," Mottl said. "This is a prime example of cronyism brought home to the local level. This school board and several before it were all cut from the same cloth."
"They have taken care of and their own but forgotten about the rest of us," he said. "It's gone on for decades and now everyone on our side of town understands what it feels like to be the victim of a corrupt government body. We need to change that and stand up to them by saying no to this referendum."
If the referendum is approved, the district plans to spend up to $20 million on structural upgrades at Central, and $14 million at South. Additional work includes spending $2.7 million at both schools to make areas more accessible to the disabled, add new pools at both schools, and implement other changes.
Property taxes in the district are estimated to increase approximately $350 per year on a home with a market value of $500,000.
Mottl said that the June OCR complaint pressured the board into addressing some inequities between the schools; in mid-June, it eliminated a buffer zone that allowed parents in that zone to choose whether to send their children to Central or South — nearly all picked Central. Last week the board established new attendance boundaries for the schools.
Now students who live west of Route 83 and south of 63rd Street attend South, as well as students who live south of 67th Street between Route 83 and Madison Street. The change affects approximately 150 kids formerly in the buffer zone.
However, Mottl said the board needs to do a lot more before even thinking of going to the voters for more money.
"My hope is that the parents who will now have to send their kids to South will come join us in the fight against the referendum," he said. "It's reckless, wasteful and unfair. This is not the time to authorize any new spending until we get a responsible and responsive school board that truly represents the whole community, not just the constituents sitting on their side of the table."
Want to get notified whenever we write about
Hinsdale Central
?
Next time we write about Hinsdale Central, we'll email you a link to the story. You may edit your settings or unsubscribe at any time.
Sign-up for Alerts
Organizations in this Story
More News