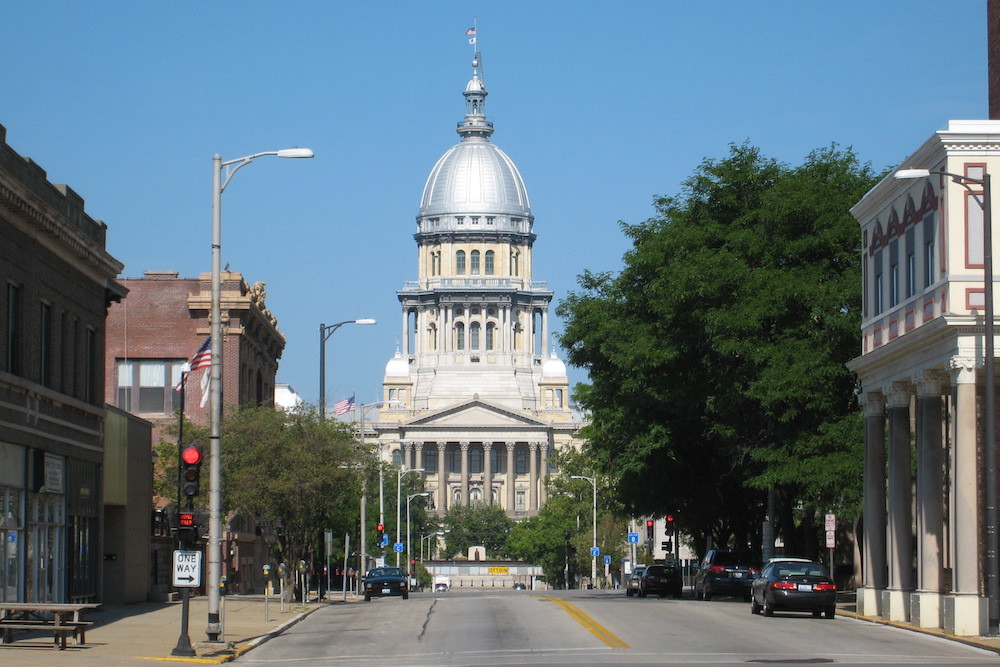 Springfield, Illinois | By Éovart Caçeir at English Wikipedia, CC BY-SA 3.0, https://commons.wikimedia.org/w/index.php?curid=10535377
Fixing what is not broken for one taxing district is just special Democratic-sponsored legislation in the eyes of three GOP state representatives.
HB4282, a bill sponsored by Rep. Kelly Burke (D-Evergreen Park) that would modify the municipal code for landowners who wish to disconnect their property from a municipality so long as it has not been designated as a part of a redevelopment project area or tax increment financing (TIF) district, was discussed April 11 on the House floor. The measure apparently specific to a Chicago Ridge development.
Rep. Peter Breen (R-Lombard) wanted to know if the bill applied only to the Chicago Ridge development or the entire state and noted the legislation lacked any opinion from the Illinois Municipal League. "Was there any negotiation from them," Burke asked.
Burke said she had not heard from the league on any issue, and further clarified that to disconnect from a municipality a landowner must file petition, based on certain criteria, with the circuit court.
"My bill would add one additional factor the court could look at," Burke said, adding her clause mandates in TIF disconnection no further economic disruption to municipal service facilities would be caused.
Rep. Steve Andersson (R-Geneva) questioned her clause, calling it a killer.
"If there is a TIF, they can't disconnect, is that correct?" Andersson asked.
When told yes, Andersson pointed out there are a lot of dormant TIF properties throughout the state and pointed out Burke's bill prohibits them from disconnecting. He said that all the factors considered by the circuit court are what is keeping Chicago Ridge from disconnecting and wanted to know why Burke wanted to add her clause.
"I think it would clarify it," Burke answered, adding a TIF eventually expires.
"In 23 years," Andersson rebutted.
Burke brought up Chicago Ridge's demographics and how her bill would assist the development's disconnect, the very point Andersson was attempting to get her to make.
"The reason for the change is that you think it will be detrimental to the future prospects of the village if this were allowed to happen," Andersson said.
Speaking to the bill, Andersson said existing law is fact specific and should remain that way.
"This bill is creating an absolute killer of disconnect over one issue that may or may not matter," Andersson said. "We don't need to add this additional layer."
Like Andersson, Rep. Jeanne Ives (R-Wheaton) pointed the absolute of Burke's bill.
"They way that we are interpreting this is that this is actually a factor the court cannot make a determination on and if they are in a TIF they cannot disconnect," Ives said. "Cannot, that is how we read the statue as you have drafted."
The absolute is unacceptable to Ives, who asked why there was no grandfather legislation that allows older TIF property to disconnect.
"What we know about this body is that we are very cavalier about holding to the 23 year normal requirement for TIF and instead we are very good at extending one TIF after another TIF, meaning you can tie up property for well over 30 years, when they possibly wanted to disconnect," Ives said.
Fair and prudent the bill is not, Ives said, and locks up other peoples' property for Burke's one of instance with what appeared to be a special deal for Chicago Ridge.
"I really encourage this body to vote no on this legislation," Ives said.
HB4282 passed 65-45 and moved to the Senate Floor.