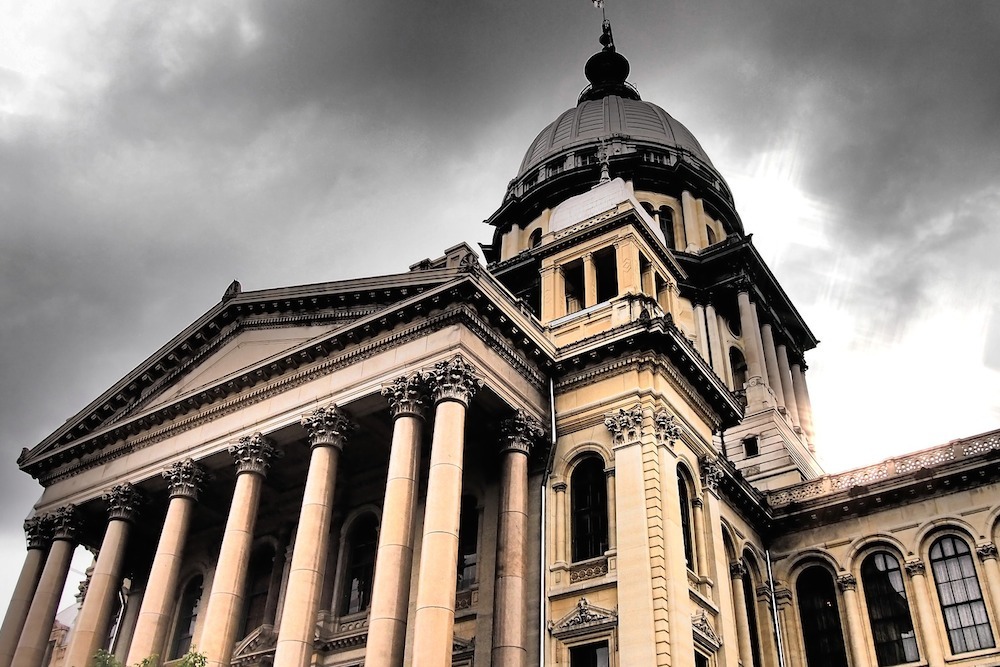 During a recent debate on the House floor about pay gap legislation, four GOP lawmakers said the proposal will not address real wage differential between the sexes as intended.
The proposal, HB4163, sponsored by Rep. Anna Moeller (D-Elgin), would prohibit an employer from seeking the salary a prospective applicant received from a former employer during the hiring process and strengthen equal pay regarding wage discrimination.
Rep. Peter Breen (R-Lombard) noted his background as a lawyer and said current Illinois laws already ban wage differential based on gender.

Rep. Keith Wheeler
"This bill changes that law in a very particular way," Breen said. "When you look at the way new court cases will be brought and the employer is going to have to justify every single difference in the rate of pay between every employee in the business."
Breen added that his concern does not lie with big businesses and quality, quantity, merit or seniority systems.
"I am more worried about the small business that is going to have to justify every single differential, because the fact is they are going to have to hire a lawyer to prove that the difference in pay is not based on or derived from a differential compensation based on sex or another protected characteristic," Breen said.
Breen said his brothers and sisters at the bar will get more business, but small businesses will suffer.
"I find this bill very problematic because it hits the heart of the business community that creates the most jobs," Breen said.
Rep. Mark Batinick (R-Plainfield) said "everyone on this side of the aisle agrees that in 2018 we should have equal work for equal pay," but Moeller's bill does not fix that due to the underlying language in the legislation.
"I would like you to explain to me how not asking that this is somehow going to close the gap you are referring to, because I see in my mind scenarios where it has the opposite effect," Batinick said.
According to Moller, statistics prove women make 6 percent less in their first job then men in equal positions and if future pay is based on prior wages then gender gap pay inequity is perpetuated throughout a female's career.
"On average women lose 10 years in wages to their male counterparts in their lifetime and statistically women make approximately $400,000 less over their careers than male counterparts," Moeller said of the discriminatory wage practices she is attempting to correct in Illinois.
Batinick referred to Moeller's use of the word "intent" when questioning what study she was referring to. Moeller reminded Batinick that he himself cited a Harvard Business Review study last year that suggested prior wage history not be allowed to be questioned when an employee is interviewing for a job.
"The study stated that women who do not discuss wage history actually get paid less than women who do discuss wage history in the interview," Batinick countered before speaking to the bill. "We have very little data on this issue."
Rep. Keith Wheeler (R-Oswego) spoke to Moeller's intentions in attempting to address gender-based wage gap differential; however, in reality there is no data that supports linking the wage history question with a gender gap history question.
"We really haven't' seen that," Wheeler said, adding though Massachusetts has started addressing the issue, it is not entirely confirmed the two are linked.
Wheeler said he would prefer to continue to discuss the issue in committee before voting on the proposed legislation.
"This bill will not solve the problem," Wheeler said.
Rep. Thomas Morrison (R-Palatine) also spoke about data on the issue and specifically noted how much of it points to women working part-time and how comparing their total income would cause a perceived gender-based gap when there is not actually one that can be fixed with Moeller's proposed legislation.
"While we want to pay equal amounts for equal work, there are other factors skewing the data, that this why this bill is problematic," Morrison said.
HB4163 passed 87-24 and was advanced to the Senate..