Four nursing homes in DuPage County have been cited by the Illinois Department of Public Health (IDPH) for violations of the Nursing Home Care Act in the second quarter of 2017.
The report lists the nursing homes in the state with AA or A violations, which might have caused the death of a resident or could cause death or serious injury to a resident, respectively. All four of the DuPage County facilities received A violations and $25,000 fines.
Lexington Health Care Center of Lombard, 2100 S. Finley Road, was cited in April for failing to transfer a patient safely, resulting in a broken leg. The facility waived a hearing and paid $16,250.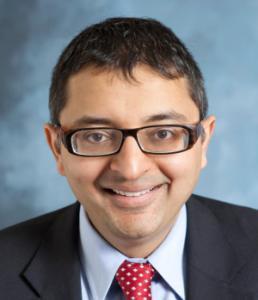 IDPH Director Dr. Nirav Shah
The other three facilities requested hearings after being cited by the IDPH.
DuPage Care Center, 400 North County Farm Road, Wheaton, allegedly failed to transfer residents safely from chairs to beds, and three residents were injured.
Manorcare, at 512 E. Ogden Ave. in Westmont, was cited for an incident in which a resident's foot suffered multiple injuries from a heavy metal food cart being moved.
A serious incident resulting in a fatality occurred at Covenant Health Care Center-Batavia, 831 N. Batavia Ave. A patient suffered a fracture while being transferred, was admitted to hospice and died.