Geneva City Council views MetroNet presentation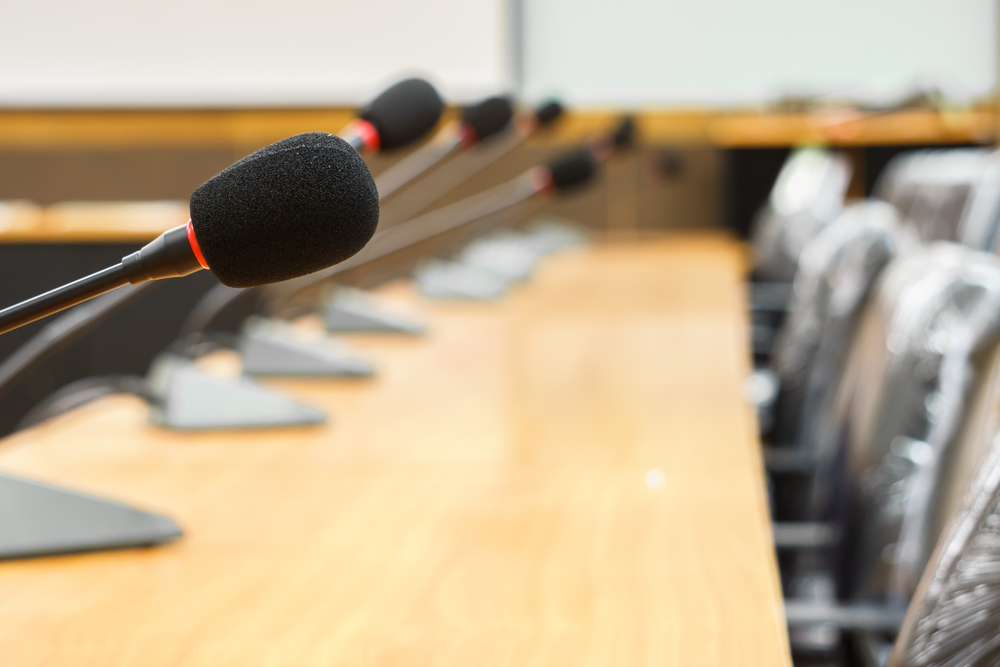 The Geneva City Council met Dec. 5 to view a presentation by MetroNet.
Here is the meeting's agenda, as provided by the council:
AGENDA
CITY COUNCIL MEETING
Monday, December 5, 2016 at 7pm
City Hall Council Chamber
109 James Street
Geneva, IL 60134
1. CALL TO ORDER: ROLL CALL
2. PLEDGE OF ALLEGIANCE
3. PUBLIC HEARINGS, SPECIAL ITEMS AND PRESENTATIONS
a. Geneva 708 Mental Health Board Presentation
b. Presentation by MetroNet
4. AMENDMENTS TO AGENDA
5. OMNIBUS AGENDA (OMNIBUS VOTE)
All Items listed with an asterisk (*) are considered to be routine by the City Council and will be enacted by one motion. There will be no separate discussion on these items unless a council member or citizen so requests in which event the item will be removed from the Omnibus (Consent) Agenda and considered in its normal sequence on the Agenda.
*6. Approve Minutes of the Regular Meeting on November 21, 2016 (Clerk recommends approval).
*7. REPORTS
a. Income Tax
b. Excise Tax
c. PPRT
d. Local Use
e. September 2016 Financial Report
*8. COUNCIL COMMITTEES
COMMITTEE OF THE WHOLE – December 12, 2016 at 7pm
9. OTHER ITEMS AND CORRESPONDENCE
10. Municipal bills for payment $1,711,413.52. (Recommended by City Administrator)
11. COMMITTEE OF THE WHOLE ITEMS OF BUSINESS
a. Consider Ordinance No. 2016-43 Amending Title 4, Chapter 2 (Liquor Control), Section 4-2-10 (O) – Restrictions on Issuance of the Geneva City Code.
*b. Approve Certificate of Acceptance for Lots 1-5, Block 66 and 5th and Campbell Subdivision, Geneva, IL.
*c. Approve Resolution No. 2016-92 Authorizing Execution of an Electric Easement Agreement for Distribution at Lots 186 and 187 Fox River Woodlands.
*d. Approve Ordinance No. 2016-42 Amending Title 11 (Zoning), Section 11-2-2 Related to the Definition of the Term "Cosmetic Tattooing" and Sections 11-6B-2, 11-6C-2, 11- 6D-2, 11-6E-2, 11-6F-2, 11-6G-2 and 11-7A-2 (Permitted Uses) to Expand the List of Permitted Uses in the B1, B2, B3, B3E, B4, B5 Business Districts and OR Office Research District to Include "Cosmetic Tattooing."
*e. Approve Resolution No. 2016-93 Authorizing Execution of a PACE Subsidy Agreement Effective January 1, 2017 through December 31, 2017 Subject to FY2017-18 Budget Approval.
12. PRESENTATION OF ORDINANCES, PETITIONS, RESOLUTIONS, AND BID AWARDS
13. NEW BUSINESS
14. ADJOURNMENT
Want to get notified whenever we write about
City of Geneva City Council
?
Next time we write about City of Geneva City Council, we'll email you a link to the story. You may edit your settings or unsubscribe at any time.
Sign-up for Alerts
Organizations in this Story
22 South 1st Street
Geneva, IL - 60134
More News