Congressional candidate Khouri outlines economic growth plan
Tonia Khouri, the Republican candidate for the Congress in Illinois' 11th District, recently addressed her perspective on economic growth and how her approach is fundamentally different from opponent Bill Foster, the Democratic incumbent.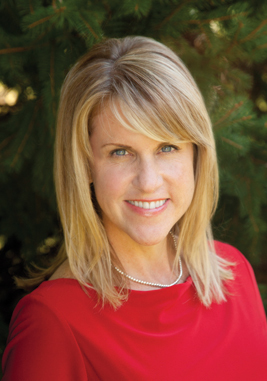 "For years, our economy has been stagnant," Khouri said. "Americans all across this nation are discouraged by the lack of growth and lack of opportunities."
Khouri explained that she has considerable first-hand experience with growing her own successful small business, as well as being the chairman of economic development on the DuPage County Board, where she regularly fights for Illinois taxpayers and their best interests.
"I'm a business owner, so I've seen first hand how a job can change a person's life," she said. "If we're going to lift people up and out of poverty in this nation, we need to start by creating jobs."
Khouri stressed why she finds job development and free enterprise so important to the state, as well as the country.
"That's why I'm running for Congress — because there's no excuse for the bleak economic growth we've seen recently," she said. "It's time to make a change and put the power back in Americans' hands."
Khouri regularly tours her district to address constituent concerns, and she said she hears a lot about job and economic growth from those in her district.
"As I travel the district and hear the concerns of constituents, they are the same concerns Americans have all across our country," she said. "Eighty-four percent of Americans are concerned about the economy and rightfully so."
Khouri argued that her opponent is not serving the people of the 11th District.
"Unfortunately, we have a congressman that supports overburdening, over-regulating policies, that have killed jobs and hurt small businesses," she said.
Khouri explained that there are a lot of political differences between her and Foster.
"But the biggest difference is Bill Foster uses every opportunity he can to grow our government and raise our taxes," she said. "I fundamentally disagree with this."
Khouri then explained why she knows her efforts in Congress will help her constituents not only in her district, but also in the state.
"We are the greatest nation on earth; not because of our government programs, but because of our free enterprise system, the free market," she said. "Free enterprise creates opportunities. Opportunities create jobs. And jobs change peoples' lives. I've seen it."
Clearly, the only way change will happen is by changing the status quo, Khouri said. Part of that change involves voting those like Foster out of office and replacing those like him with elected officials who actually care about the voters instead of lining their own pockets at their constituents' detriment.
"So that's what I'm going to Washington to fight for," she said. "Opportunity and jobs for everyone, no matter where you live."
Want to get notified whenever we write about
Tonia Khouri for Congress
?
Next time we write about Tonia Khouri for Congress, we'll email you a link to the story. You may edit your settings or unsubscribe at any time.
Sign-up for Alerts
Organizations in this Story
P.O. Box 9007
Aurora, IL - 60598
More News